WELCOME TO
ULTIMATE YOU


LIFE + HEALTH COACHING!



Be the driver on your journey through life...

Tired of feeling like you're always the one compromising?
Grab my FREE EBOOK 
Owning Your Authenticity With People Who Need to Be Right
Discover my client-favorite strategy for feeling calm and strong with people who don't bend so you can confidently hold your ground instead of always being the one to give in.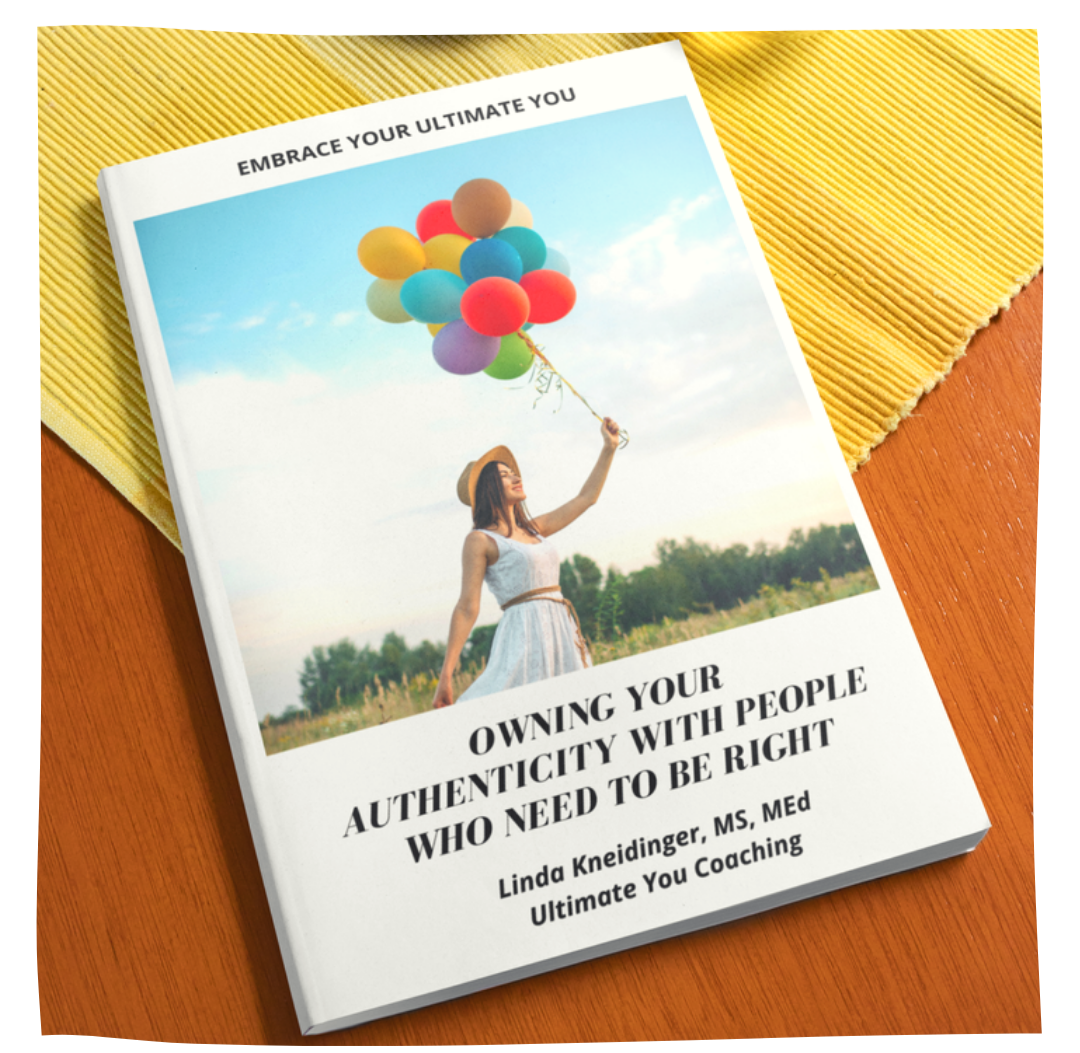 "While working with Linda, I started thinking differently about my business without even realizing it. I stopped playing small and opened myself to opportunities I would have written off in the past. I've made new connections through activities I enjoy so the relationships feel natural and easy.

It feels good to grow my business while being my authentic self."

CW, Oak Park, CA

Self-employed mother of two

"I had been judging myself because I operate differently than the Type-A people in my life, but I discovered that my pace is perfect for creativity, and I hadn't expressed my creative side in years.

I came away with a specific plan to get back in touch with this part of me that I value and miss."

VL, Thousand Oaks, CA

Amateur photographer, mother of two

Strong, intelligent women are not immune to self-doubt, over-niceness, and being spread too thin. I help women identify how they'd LIKE to be living - to feel connected with their purpose and passion. When you realize the only person holding you back is you, you can begin to step into your power.
Do you think you're capable of achieving more than you are right now? Do you often resent others for the way they treat you? Do you replay conversations in your mind, wishing you had spoken more honestly? I've been there personally, and I want you to experience what I've experienced. I want you to achieve your goals and dreams. I have the knowledge and skills to help you GET THERE, and I'll provide encouragement, support, and accountability along the way.

I provide one-on-one coaching by phone or video chat and workshops to organizations. I also offer an online, self-paced course that covers six topics known to create big changes through small mindset shifts. Email me if you'd like to learn more about hiring me as a speaker, or to explore one-on-one coaching.
If you're ready to change, if you've had enough of knowing you're capable of more, let's see if we're a good match. And if we are, let's get you on the path to your Ultimate You! The women who have already made the transformation are eager to welcome you into the tribe.
Curious about how coaching can help you move forward toward your goals?

Submit your email to receive my newsletter with tips and discussions about habit change, the power of mindset, and more.
Open yourself up to possibility!
"I attended a mindset workshop with Linda. She's very relatable and has a relaxed, comfortable style. She explains strategies in a way that makes them easy to use in your daily life."

NF, Woodland Hills, CA

Business owner

"Working with Linda helped me to acknowledge my true priorities and let go of things that don't serve me. If I developed one superpower as a result of these sessions, it was setting boundaries. I'm so great at this now!

One of the most profound insights for me was acknowledging it's okay to make myself a priority despite all the other things — personal and professional — that compete for my time. "

CB, Thousand Oaks, CA

Educator, designer, mother
I'm releasing a FREE recorded workshop on a different topic every month this year.
if you'd like to receive these recordings through email. 
Let's connect on Instagram!